26. Oktober – 17 November 2018
Finissage: Sa, 17. Nov. 2018 ab 15 Uhr
Offnungszeiten | opening hours:
Montags, Dienstags und Mittwochs von 14 bis 20 Uhr
nach Vereinbarung, Tel.: 0178 / 490 37 36
on mondays, tuesdays and wednesdays from 2 pm to 8 pm
and by arragement, call +49 (0)178 / 490 37 36
Shirin Ashkari (Malerei | painting) – Mathias Bartoszewski (Radierung | etching) – Mika Clemens (Malerei | painting) – Cornelia Es Said (Malerei | painting) – Marko Krojač (Siebdruck | screenprint) – Constance Schrall (Enkaustik | encaustic) – Tom Wölke (Lichtinstallation | light installation)
---
---
Ort | Location:
krautART ARTspace . Lückstr. 11 . 10317 Berlin . S-Bhf. Nöldnerplatz
---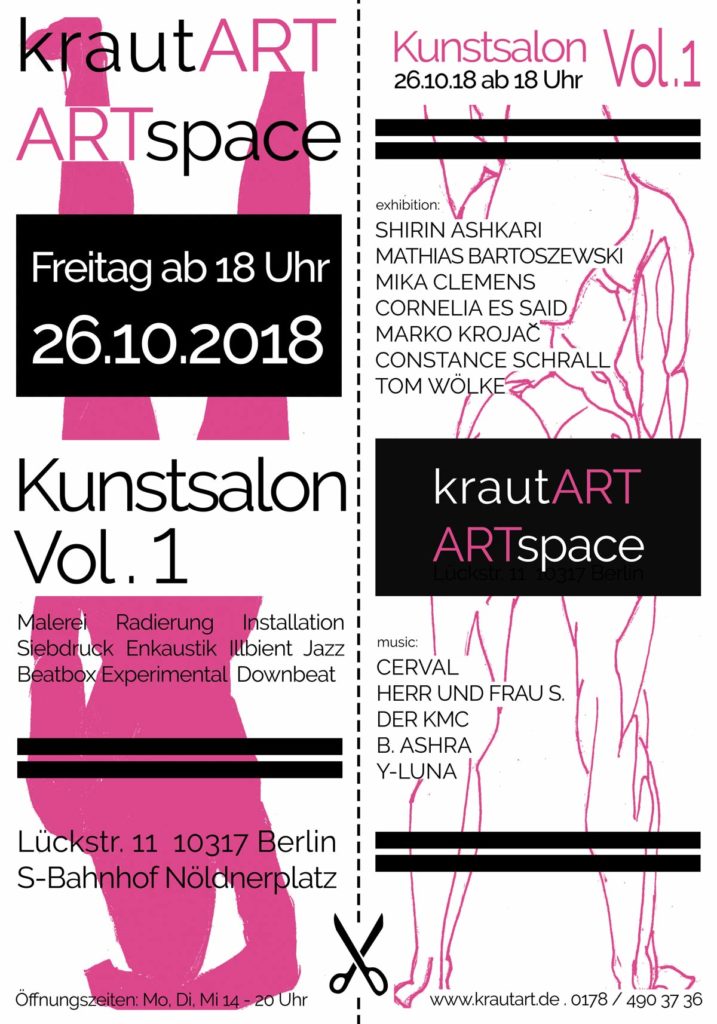 Grand opening of the art space and vernissage of the first exhibition on friday, oct. 26th 2018 from 6 pm
Our first exhibition and grand gallery opening on friday, october 26th (6 pm – 2 am) features the artists Shirin Ashkari, Mathias Bartoszewski, Mika Clemens, Cornelia Es Said. Marko Krojac, Constance Schrall and Tom Wölke. They show abstract, figurative and landscape paintings, screensprint and light/installations.
During the opening event the musicians Cerval, Herr und Frau S., the KMC, B. Ashra and Y-Luna offer an acoustic counterpart, that illustrates and enhances the visual elements with illbient, jazz, beatbox, choir, epxerimental and downbeat.
---
Eröffnung des krautART ARTspace und Vernissage der ersten Ausstellung am Freitag, den 26.10.2018 ab 18 h
KünstlerInnen aus den B.L.O. Ateliers, aus Friedrichshain und Kreuzberg haben sich zusammen getan, um gemeinsam den krautART ARTspace – die erste ProduzentInnen-Galerie im Weitlingkiez – zu eröffnen.
Der Ort des Geschehens – die Lückstraße 11 – liegt in unmittelbarer Nähe zum Nöldnerplatz in Lichtenberg. Dort mangelt es bisher sowohl an Lokalitäten im Allgemeinen als auch an (inter)kulturellen Treffpunkten im Speziellen. Die Galerie ist daher auch als Bereicherung des nachbarschaftlichen Lebens gedacht – als ein Raum, an dem diskutiert und zeitgenössische künstlerische Positionen in konstruktiver Atmosphäre erlebt werden können.
Die ProduzentInnen-Galerie wird die Möglichkeit bieten, an drei Tagen in der Woche (und nach Vereinbarung) Malerei und andere moderne visuelle Kunstformen talentierter KünstlerInnen kennen zu lernen. In "Salongesprächen" zu ausgewählten Themen aus den Bereichen Kunst und Gesellschaft werden AnwohnerInnen, KünstlerInnen und Interessierte Austausch pflegen und unkompliziert Kontakte knüpfen können.
Den Auftakt gibt die Gruppenausstellung "Kunstsalon Vol. 1" am Freitag, den 26. Oktober 2018 ab 18 Uhr – mit Gemälden, Installationen, Radierungen und Siebdruckarbeiten von unterschiedlichen KünstlerInnen aus dem Umfeld der B.LO. Ateliers. Die Vernissage ist zugleich die Eröffnungsfeier der Galerie und wird musikalisch begleitet durch eine spannende Auswahl an DJs und Life-Musik.
Artists:
Shirin Ashkari – Malerei | painting
Mathias Bartoszewski – Malerei, Radierung | painting, etching
Mika Clemens – Malerei Installation | painting installation
Cornelia Es Said – Malerei | painting
Marko Krojač – Siebdruck | screenprint
Constance Schrall – Enkaustik | encaustic
Tom Wölke – Lichtinstallation | light installation
LineUp:
18 Uhr (6 pm) – Cerval (Illbient)
20 Uhr (8 pm) – Der KMC (Songs of resistance, seafaring and heartache)
21 Uhr (9 pm) – Herr und Frau S. (Jazz, Beatbox)
22 Uhr (10 pm) – DJ B. Ashra (Experimental Ambient)
24 Uhr (0 am) – DJane Y-Luna (Downbeat)