Neues aus dem Kunstblog | News from the ARTblog
Veranstaltungen im ARTspace | Events at the ARTspace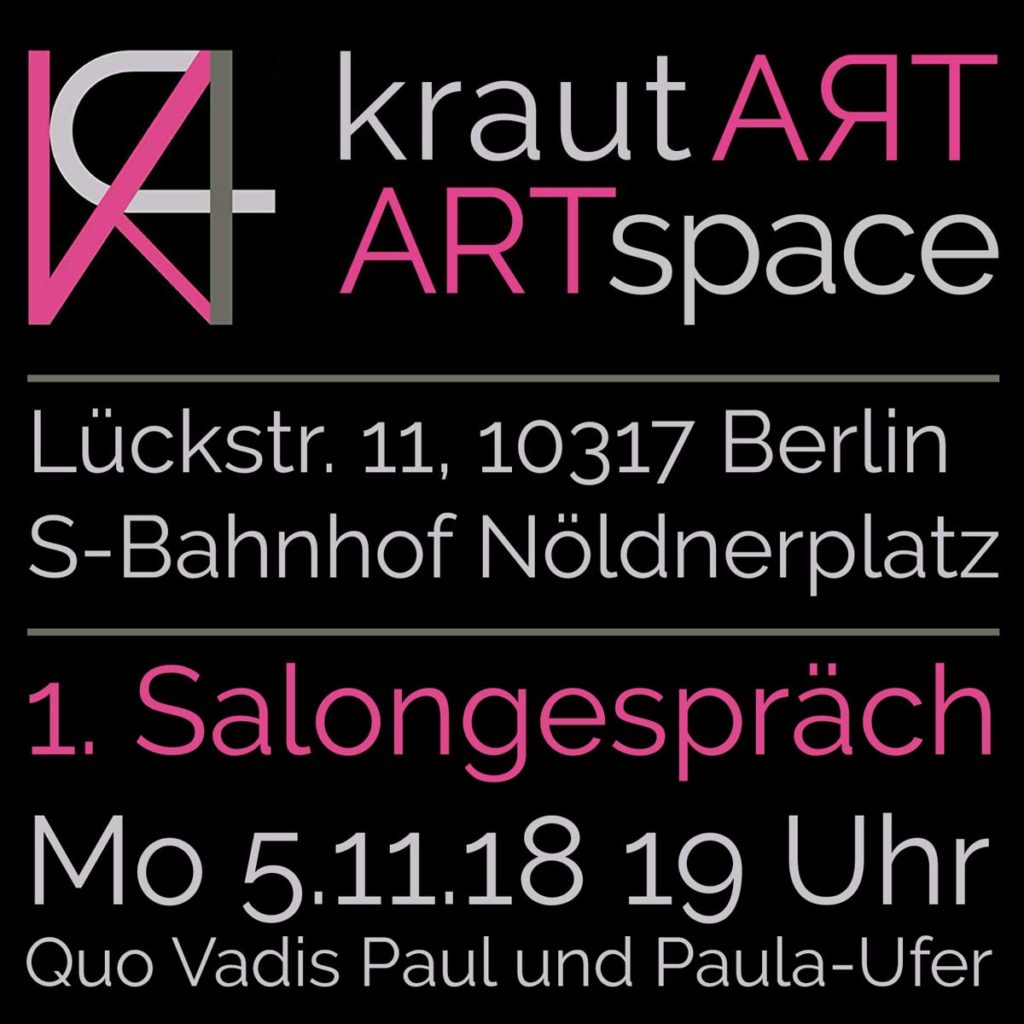 am Montag, den 5. November 2018 ab 19 Uhr im krautART ARTspace, Lückstr. 11, 10317 Berlin Der Alternativplaner Carsten Joost (planungsagentur.de) im Gespäch mit dem Aktivisten Florian Hackenberger und Kulturwissenschaftler lver Ohm - und natürlich mit dem Publikum -...
read more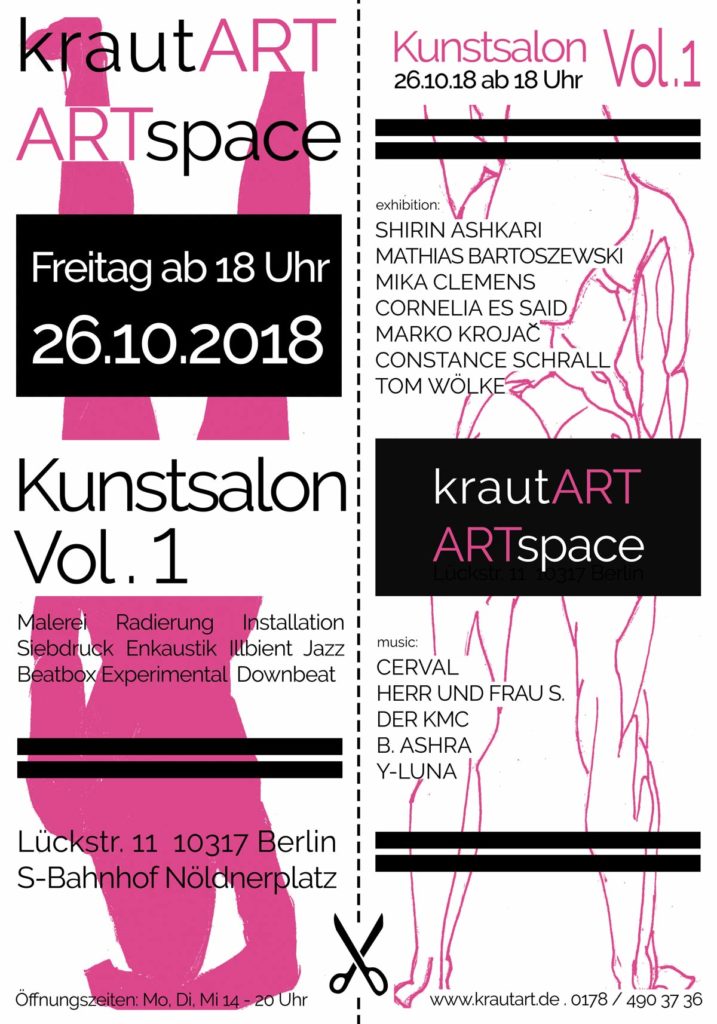 26. Oktober - 17 November 2018 Finissage: Sa, 17. Nov. 2018 ab 15 Uhr Offnungszeiten | opening hours: Montags, Dienstags und Mittwochs von 14 bis 20 Uhr nach Vereinbarung, Tel.: 0178 / 490 37 36 on mondays, tuesdays and wednesdays from 2 pm to 8 pm and by arragement,...
read more
No Results Found
The page you requested could not be found. Try refining your search, or use the navigation above to locate the post.
Künstler*innen bei krautART | Artists at the ARTspace
cornelia es said
Kaskelstr. 55
10317 Berlin
+49 (0)178 / 490 37 36
connect@corneliaessaid.de
Shirin Ashkari 017656963536 ashkari.shirin@gmail.com About: The hardest Part of being an Artist is the reforming and its process of an Idea and a huge mess of thinking to a Frame of a Painting or a pose in a Dance or some notes of a music. Sometimes you can even see...
almut@so36.nethttp://almutmueller.net/ Bio:Almut Müller wurde 1962 in Montabaur geboren. Seit 1987 beteiligt sie sich kontinuierlich an Ausstellungen und Projekten lokal und international. Für das Studium der Malerei besuchte sie die FKN Nürtingen und die...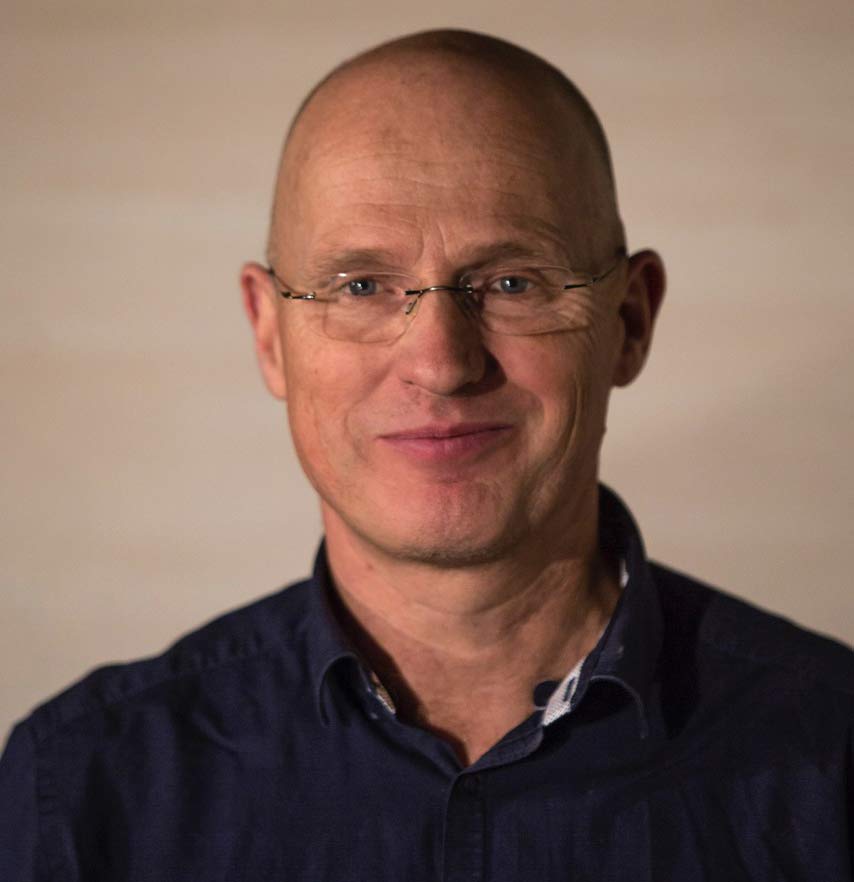 Mathias Bartoszewski Kulturhaus Steinfurth Dorfstrasse 15 17495 Steinfurth T. 038355 68602 M. 0171 54 06 158 www.mathiasbartoszewski.com Vita: 1959 in Berlin Prenzlauer Berg geboren Tischlerlehre am Theater...
krautART ARTspace
Lückstr. 11
10317 Berlin
S-Bhf. Nöldnerplatz
(one stop east of Ostkreuz)
+49 (0)178 / 490 37 36
artspace@krautart.de
opening hours:
only for shows – tba
---
Stay tuned!
Einladungen zu Veranstaltungen, Vernissagen und Finissagen im krautART ARTspace und den B.L.O. Ateliers.
Jetzt anmelden!