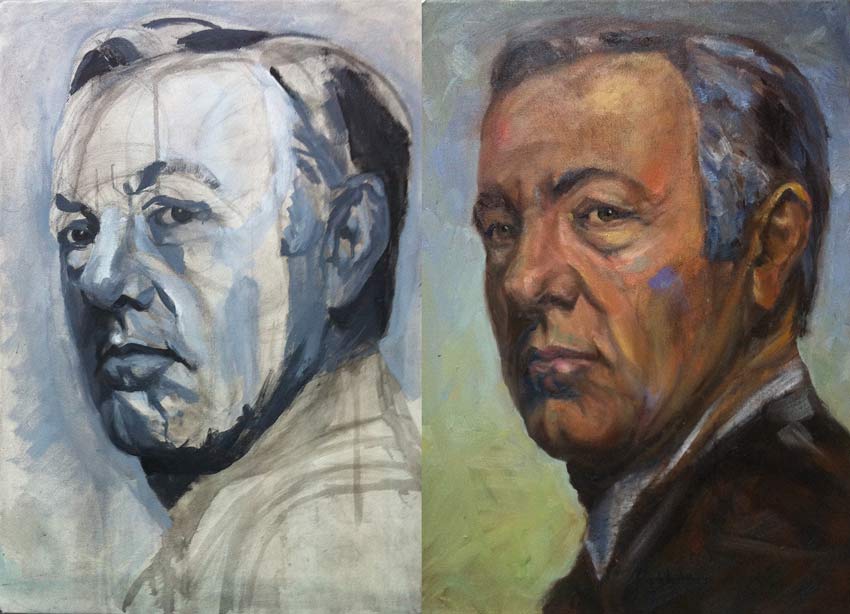 I want to share with you the process of portraying the actor Kevin Spacey by means of the media accessible, trying to find the human being through the haze.
The painting is part of the series persons of daily interest, that started with Mr. Henry Ford. It is about the ambiguity of human beings, about topics like guilt and judgement, … misuse, gender,  attraction,  empathy.
Welcome to the journey.
---
25.12.2017, 8 pm
I mean: may I use Mr. Spacey's face without asking him? Though he's an actor an puts himself on stage willingly, may I anyway conduct this kind of analysis on him? Isn't this kind of voyerism misuse already?
How do we make ethic decisions? What is judgement good for?
Painting Process
The foundation for the portrait of Kevin Spacey is a gestural lay-in of the head with charcoal and tempera:
---
In order to go on with the painting I rubbed burnt umber (oilcolors) over the whole of the canvas. What you see are the first steps: the wipeout. Due to digital photography the nuances of the painting – which in reality are more subtle –  appear to be quite colorful.
---
First dabs of color:
---
Don't know if I'm finished yet: I let the portrait dry now and start something else to let my eyes rest. At the moment I really can't see anymore if there is any likeness to Mr. Spacey at all. Please be aware, that the photograph catches a lot of reflexted light, especially in the upper and left side of the painting, wich i reality are much darker.
See the finished portrait of Kevin Spacey »
See all paintings of the series 'persons of daily interest' »